To train and compete with your miniature-schnauzer
If you train your dog in a nice and positive way,
you can probably teach any dog the different elements in obedience.
But if you are going to compete and want your dog to last in motivation,
the whole competition, in the more difficult obedience classes,
you probably need a dog with a little more engine.
My very different minis have been my teachers.
We went to many classes together and I finally think I understand
what happened because of lacking in my own training of the dogs,
and what where different characteristics in the dogs personalities.
You usually can not train exactly the same way with two different dogs.
The dogs are individual and have differencesin their temperament, just like us.
The obedience-dog of my dreams was a sociable, positive,
and fearless female named Ida.
She was always wonderfully light-hearted and had a lot of engine.
When we were training together, her confidence in me increased
and we became a very tight team. She really loved the training sessions!
When we went to weekend classes for different trainers,
she was always the one of the dogs that was most alert when it was time to go home.
Although she often was the only breed in the class that was not of a working breed or sheepdog!
A dog with that kind of engine is lovely to work with!
It was not only her congenital temperament that made her who she was.
There are many ways to increase the self-confidence in a dog and improve its wiliness to train.
During one period, we practised search.
It was very fun, but took a lot of time, so we did not do it for more than a year or so.
But the effect of the search-training stayed with Ida for the rest of her life! Very instructive for me, since I had very little experience in that kind of practice.
When you practise a lot of obedience, you tie your dog rather tight to your self
as handler and reward the dog a lot for taking contact and for following close to you.
Something that is favourable in the every day life together as well.
In the new-beginner classes of obedience, it is often enough that the dog is extremely good
in following close and really likes to cooperate with you.
That will probably make you reach the results you wish for.
When you come to the more difficult classes it takes a little more engine in your dog.
At the time Ida and I competed together it was in obedience class 3,
that the demands increased on independence in the dog, to be able to do good in a competition.
After some changes in the obedience-rules since then I would say that the demands
on independence in the dog increase as early as in obedience-class 2.
Ida had a bit of trouble in the elements that demanded more independence.
But that changed after we had been training search for a while.
Search-training involve a lot of work from the dog itself,
where you as the dogs handler have to trust the dog and its capacity.
You get the same effect when you practise for example tracking, and blood-tracking.
After the period of search-training Ida was on her toes
in the heeling and demanded her reward!
If I held the reward in for a while, because I was not quite satisfied with her performance,
she almost made a knot out of herself eager to understand and perform well.
We could drill the same thing a huge number of times.
That is nothing to recommend, since it breaks the spirit and motivation in a lot of dogs.
But with Ida it was ok. Her engine was big enough for it and she only got even spunkier.
The perfect obedience-dog for me is a happy, positive, spunky dog
with enough engine to work a lot.
The other thing that is needed is a handler that find the right "buttons"
on their dog (for example the right rewards etc.)
and train in a nice way, that makes the obedience positive for the dog.
It is also important with trust and confidence between dog and trainer.
The third thing acquired, according to me, is a balance in the training.
It is preferable to mix the obedience-training with search, tracking, blood-tracking
or some other independence-developing practise.
Agility-training is also something that can strengthen the
self-confidence in a dog in an extraordinary way.
I trained a lot of agility with my little mini Beata, many years ago.
She was a dog that did not really have enough self-confidence to train anything at all.
Only the fact that she needed to perform in some way
to get a peace of candy, broke her spirit and wiliness to work.
I very soon discovered that obedience-training was not her sport at all.
However nice and cute I tried to teach, she was so submissive
that most elements in the training became difficult for her and for me.
That is how we discovered agility.
In the beginning I had to toss her over the small obstacles, shouting of joy and praise,
because she was so good, since Beata herself never expected to be able to jump
even the smallest obstacle.
In time her self-confidence grew stronger and after training a lot of agility,
she was a much stronger dog in the everyday life to.
It was wonderful to watch her self-confidence and self-esteem grow like that.
Since then I have had very much faith in the good that agility can do.
It is a wonderful sport, that I love practising.
But I have never competed in this sport, except on a few unofficial competitions,
just for fun.
Another form of fun dog-training is to teach your dog circus-tricks for activation.
Johan had a mixed breed border collie/german sheperd. His name was Amadeus, and he was an incredibly smart dog, but rather demanding about working with his smart brain. Amadeus knew a lot of tricks. For example he would open the bathroom-door, close the toilet-lid and flush.
The first miniature-schnauzer in our family, Fille,
came in to my life when I was 15 years old.
He was a wizard in doing circus-tricks.
The whole family got engaged in this
and we competed in making up fun and original tricks,
witch we often showed when we had friends visiting.
Fille was very happy with this, because he would do anything for a treat!
Filles circus-tricks was of the kind
that all that was needed was a reward and his own body.
He did things like dancing around on his back-legs,
jumping up in our arms, waving with his left or right paw etc.
When I bought the first mini of my own,
Belker, I started to develop the trick-training a little bit more.
Belker was a smart, ingenious dog.
We went to class together and I got the tip to take a look
at small children toys in the toy-store. I did that.
Belker learned, among other things,
to drive small cars with his nose and with his paw if requested.
He learned how to push buttons to make things sound
and pop up on baby-toys.
He also learned to pick up blocks and put them in the right whole
for the right shape (circle and triangle) in a little box of wood.
This was a skill that Amadeus had too,
only he managed to put all the different shapes of blocks in the box.
He could also build a pyramid of rings on a stick, another child-toy.
Amadeus used to clean the floor from his toys himself and put them in his toy-basket.
Belker also learned how to pick up a lot of things, in different shape and size,
from the floor, put them in a box and shut the lid after fetching everything.
Belker also learned the names of a lot of items, that he fetched when asked.
A challenge was also to make it a bit harder
by varying sizes and properties of the items to fetch.
A jar of glass, keychain, the smallest coin, the biggest newspaper,
that you can not bring with you if you do not walk backwards, etc.
There are no limits to what you can come up with to activate your dog
and the most of it you can find in your own home!
More about Belker!
He was the first dog I ever compete obedience with and we learned that sport together.
Belker was a special little guy and every competition was an adventure.
Sometimes it went brilliant, and sometimes it all went completely wrong.
We probably have some kind of record in the number of starts
before reaching the title LP (Swedish title) with three first prices in obedience-class 1!!! J
Very well!
We were going to compete in obedience-class 2.
Belker had been attacked by large sized dogs a few times
and since he was a bit fearful in his personality, this put his mark on his behaviour.
I noticed that he was lying between to big dogs in the three minute down.
I thought, as the little "mother hen" I am, that:
Oh no, I hope that none of them get up and go to Belker, or he will never stay down again!
I knew that Belker would never dare to get up and walk towards any of them.
All the handlers were hiding behind the judges tent.
I could hear the judge mumbling to the secretary inside the tent.
"Mumble, mumble, dog number four, mumble mumble." Oh no! My Belker was number four!
What was happening to my poor little dog. A three minutes down can feel like ages,
but finally my little dog came to me behind the judges tent. He looked just fine and happy,
but I still suspected that one of the big bad wolves
had harassed the poor soul, so he did not dare to stay down anymore.
We went back to the line and the judge gave ten points to everyone else
and a zero point to Belker and me.
I asked the judge about what happened to my innocent little dog.
"Well", the judge smiled and said. "He was visiting us in the tent, begging for cookies and
looking for crumbs on the ground beneath our table!"
One of many innocent but fun things that my little Belker did!J
You can read more about our philosophy in training here!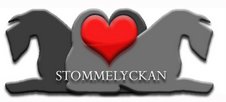 © Åsa Lundmark
Stommelyckans Hund & Hälsa